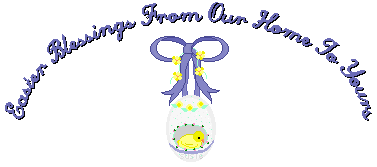 Easter Blessings to you all!

Now on the day after the Sabbath, as the first day of the week began to dawn, Mary Magdalene and the other Mary came to see the tomb. And behold, there was a great earthquake; for an angel of the Lord descended from heaven, and came and rolled back the stone from the door, and sat on it. The angel... said to the women, "Do not be afraid, for I know that you seek Jesus who was crucified. He is not here; for He is risen as He said. Come, and see the place where the Lord lay. And go quickly and tell his disciples that He is risen from the dead!" Matthew 28: 1-7 NKJV

Have a wonderful Easter holiday -- and remember the reason for this
day! Jesus Christ died on the cross and rose from the dead for you and I -- so that we might live with him forever!

We don't have a lot of Easter traditions, but one thing I do like to make
are Hot Cross Buns. Yummy!

Hot Cross Buns:
2 packages active dry yeast
1/2 cup warm water
1/2 cup lukewarm milk (scalded and then cooled)
3/4 cup unseasoned lukewarm mashed potatoes
1/2 cup sugar
1 1/4 tsp salt
1/2 cup butter or margarine, softened
2 eggs
1 tsp cinnamon
1/4 tsp nutmeg
1 cup raisins
1/2 cup chopped citron
about 4 1/2 cups of unbleached white flour
1 egg yolk
2 tbsp cold water

Dissolve yeast in warm water in large mixing bowl. Stir in milk, potatoes, sugar, salt, butter, two eggs, cinnamon, nutmeg, raisins, citron, and 2 cups of the flour. Beat until smooth. Stir in enough of the remaining flour to make a soft dough.
Turn dough onto a floured surface, and knead until smooth and elastic. (About 5 minutes) Place in greased bowl; turn greased side up. Cover; let rise until double in a warm place. (about 1 1/2 hours)
Punch dough down, divide into fourths. Divide each fourth into 8 equal parts. Shape each part into a smooth ball, tucking edge under so it resembles a mushroom cap. Place about 2 inches apart on a greased baking sheet. With scissors, snip a cross into the top of each ball. Let rise until double (about 40 minutes).
Heat oven to 375. Beat egg yolk and cold water slightly; brush over tops of buns. Bake until buns are golden brown, about 20 minutes. Cool slightly and frost with icing.
ICING: 1 cup confectioners sugar, 1 tbsp water, 1/2 vanilla -- mix together until smooth.