The United States Coast Guard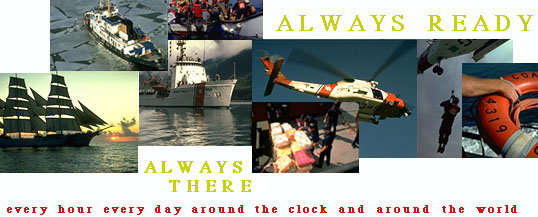 This page honors the memory of all those
Coast Guardsmen that have lost
their lives in the line of duty.
As well as those who go to work each
day to make the waters a safer place for all


Creed of the United States Coast Guardsman
I am proud to be a United States Coast Guardsman.
I revere that long line of expert seaman who,
by their devotion to duty and sacrifice of self,
have made it possible for me
to be a member of a service honored and respected,
in peace and in war, throughout the world.
I never, by work or deed,
will bring reproach upon the fair name of my Service,
nor permit others to do so unchallenged.
I will cheerfully and willingly
obey all lawful orders.
I will always be on time to relieve,
and shall endeavor to do more,
rather than less,
than my share.
I shall always be at my station,
alert and attending to my duties.
I shall, so far as I am able,
bring to my seniors, solutions,
not problems.
I shall live joyously,
but always with due regard for
the rights and privileges of others.
I shall endeavor to be a model citizen
in the community in which I live.
I shall sell life dearly
to an enemy of my country,
but give it freely
to rescue those in peril.
With God's help,
I shall endeavor to be one of
His noblest Works.....
A UNITED STATES COAST GUARDSMAN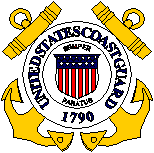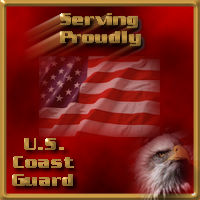 Eternal Father, Lord of Hosts,
Watch o'er those who Guard our coasts.
Protect them from the raging seas
And give them light and life and peace.
Grant them from thy great throne above
The shield and shelter of thy love.
Lord, guard and guide those who fly
Through the great spaces in the sky.
Be with them always in the air,
in darkening storms or sunlight fair;
Oh, hear us when we lift our prayer,
For those in Peril in the air.
God, Who dost still the restless foam,
Protect the ones we love at home.
Provide that they should always be
By thine own grace both safe and free.
O Father, hear us when we pray
For those we love so far away.
(A special thanks to Pat Flynn for providing the words
to this for me!)


Coast Guard Links
Master Chief Petty Officer Of the Coast Guard
United States Coast Guard Home Page
Coast Guard Combat Veterans
Coast Guard Sea Veterans
Coast Guard Reserve Page
Coast Guard Auxilliary National Page
Coast Guard MIA Page